Blackthorn
Celebrating 17 years at the forefront of the Philadelphia music scene, Blackthorn continues to draw record crowds in Pennsylvania, New Jersey, New York and Delaware.
Blackthorn's first album, It's an Irish Thing, was an instant hit with their fans with songs like Celtic Symphony becoming almost an anthem in the Philadelphia area. Within a few years, the band was back in the studio recording Here We Go Again, the CD that established Blackthorn as the premiere Irish Band in the State of Pennsylvania.
Although Blackthorn plays traditional Irish songs made famous by the Clancy Brothers and the Dubliners, Blackthorn's reputation as one of the premiere Irish Bands on the East Coast has arisen from performing their own version of those songs using a more contemporary approach. More recently, they have written and are recording original music with a traditional, celtic-rock sound.
Blackthorn recorded two more CDs, Ratty Shoes and Push and Pull, before recording their first CD of original music, The Other Side. Enjoying the benefit of extensive airplay in the Northeastern United States, Blackthorn gained a huge following from Baby Boomers, Generation X and Generation Y. At Blackthorn concerts, it is common for hundreds of individuals from all generations to join in the songs being played.
---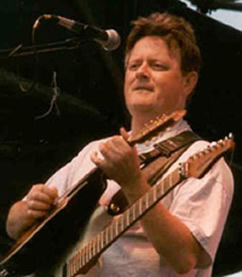 Seamus Kelleher. Singing vocals and playing lead guitar, rhythm guitar and mandolin, Seamus was born in Galway, Ireland.After touring the United States as a member of the Irish band, Rock & Roll Circus, he moved to the United States where he continued to play with a variety of bands, including Sean Fleming in venues such as Carnegie Hall in New York and the Prague in the Czech Republic

Mike Boyce. Singing vocals and playing bass, acoustic guitar, piano, tin whistle, fiddle and percussion, Mike performed publicly for the first time at age 9 at the Abbey Hotel in Donnegal Town, Ireland. After playing keyboard for the Irish band, Shamrox, he performed throughout the East Coast for several years with the band, Crossroads before joining Blackthorn. He enjoys songwriting and performing on stage.

John Boyce. Singing vocals and playing piano, keyboards, mandolin and banjo, John started performing professionally with the Vince Gallagher Band with whom he toured Ireland and with whom he recorded. After performing with Scottish tenor, Peter Morrison and Peggy O'Keefe, BBC Music Director, he performed on MTV and at Disney's Epcot Center before joining Blackthorn.

Mike O'Callaghan. Playing percussion and singing vocals, Mike was born in Tralee, County Kerry, Ireland. He started his professional career performing with the band, Derry Kennedy and the Mellowtones, and traveled throughout Ireland with the Sean O'Dowd Show Band from County Limerick. After moving to the U.S., he played with the Irish Express from Boston before joining Blackthorn.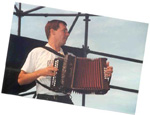 John McGroary. Playing accordion, harmonica, percussion and singing vocals, John was active in Irish Music competitions as a youth. After winning several competitions in Ireland and New York City, he performed with the Blarney Stones before forming Blackthorn.
---