CLASSICAL MUSIC ARTISTS
If your Special Event requires classical music to create the atmosphere you seek, SeaSoundStudio ENTERTAINMENT represents Soloists, Duos, Trios and Quartets with your choice of vocalists and instruments. Our musicians can accommodate you with any style of music from Bach to Rock!
To select from the various types of classical ensembles, it is helpful to understand that a string quartet (comprised of 2 violins, a viola, and cello) has a fuller sound and greater depth of harmonic complexity than a string trio. Each different ensemble combination has its own unique sound due to the timbre created by the blending of the instruments.
Certain musicians are highlighted below, but contact SeaSoundStudio with your specific entertainment need because we have access to a large network of musicians in addition to those identified on this page.
Mr. Binanay is a young, talented violinist from Chapel Hill. He started playing the violin at age 10. Now, he performs for weddings, church ceremonies, private parties and corporate events. Recently, he started his own band to play Neo-Soul music, The Difference.
For more information on Mr. Binanay's repertoire and availability, contact SeaSoundStudio ENTERTAINMENT.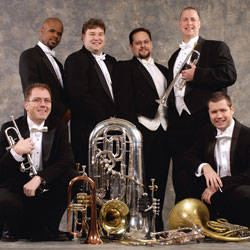 Bay Street Brassworks: Brass Instruments
Bay Street Brassworks is one of America's finest and most entertaining brass ensembles.  Founded in 1995, this versatile brass group performs a wide variety of musical genres ranging from classical music to Dixieland jazz, show tunes, classic rock, movie themes and everything in between!
Bay Street Brassworks' variety of musical abilities has produced engagements ranging from opening ceremonies at Baltimore Orioles baseball games to world premiere performances and clinics alongside the American Brass Quintet, Harvey Phillips, Gunther Schuller, conductor Harlan Parker and Steven Hendrickson of the National Symphony Orchestra. For more information on Bay Street Brassworks click on their picture or here.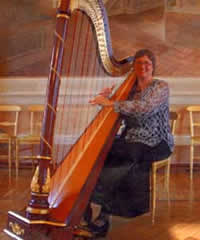 Anita Burroughs-Price: Harp
Ms. Burroughs-Price has appeared as soloist with the NC Symphony, Durham Symphony, Chamber Orchestra of the Triangle, Hendersonville Symphony and the South Carolina Chamber Orchestra. She is a graduate of Furman University with a double major in French and Harp Performance. She earned the Master of Music degree from Yale University which also awarded her the illustrious Alumni Prize.
A devoted educator, Ms. Burroughs-Price is often sponsored by institutions for cultural arts presentations and appears under the auspices of the United Arts Council's Artists-in Education program. She is the head of the harp department at Furman University and has served on the faculty of UNC Chapel Hill, UNC-Charlotte, Wake Forest University, St. Mary's School and the South Carolina Governor's School for the Arts. For more information on Anita Burroughs-Price, click on her picture or here.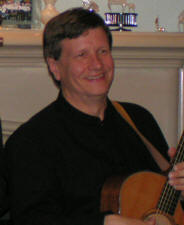 Daniel Cunningham: Classical Guitar
Mr. Cunningham started playing guitar at the age of 12 and is now recognized as an extraordinary musician who plays electric and acoustic guitar, electric bass, banjo, mandolin, harmonica, dulcimer, dobro, classical steel and slide guitar. 
Performing in various bands around the country for more than thirty years, he composes his own music and has been invited to present his solo work at conventions for guitarists. He plays classical guitar for weddings, private parties, music ministry and healing ministries at local Churches, Hospitals and Retirement Communities. For more information about Mr. Cunningham's repertoire and availability, contact SeaSoundStudio ENTERTAINMENT.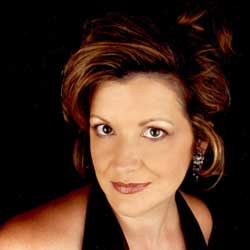 Patrice Kaluza: Vocalist, Piano,Organ, Synthesizer
Having performed onstage since the age of 8, Ms. Kaluza classically trained as a coloratura soprano for 14 years.  She has extensive experience performing at weddings, corporate events, retirement homes and restaurants. Her rich, three octave voice provides poetic justice for the beautiful strains you will hear in her soprano, mezzo, and alto voices.
Capable of singing most styles of music, "Ms. Patrice" as her students fondly refer to her, taught voice, chorus, keyboards, guitar and ALL of the orchestral instruments for more than 25 years.
Ms. Kaluza has held the position of Director of Music for several churches and has been dedicated to music ministry for 30 years.
Ms. Kaluza is comfortable singing a cappella, accompanying herself, and as a soloist backed by a band or an orchestra. She often performs with local Rock a Swing Bands, but she can also provide her own musical accompaniment on the keyboard for smaller functions.
With her experience in theatre and on the musical stage, Ms. Kaluza has an exceptional ability to connect with audiences of all ages.  For more information on Ms. Kaluza, click on her picture or here.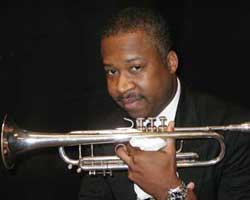 Ramon Kenan: Trumpet
One of the outstanding trumpeters of our time, Mr. Kenan has performed nationally and internationally with such music legends as: The O'Jays, The Coasters, The Tommy Dorsey Orchestra,  Byron Stripling, Phil Driscoll, The Winans, Beach Boys, Frankie Valli and Ed Shaughnessy ("Tonight Show" Band).  Mr. Kenan has performed in various music venues on public radio and television. His television credits include PBS, WTVD, CTV and various international broadcasts in the Bahamas, Central Europe and Russia.
Currently a member of the North Carolina Jazz Repertory Orchestra; Ramon is also the lead trumpeter with the Raleigh Jazz Orchestra and the North Carolina Brass. Mr. Kenan has served as a music professor at North Carolina State University and Campbell University.  For more information on Mr. Kenan, click on his picture or here.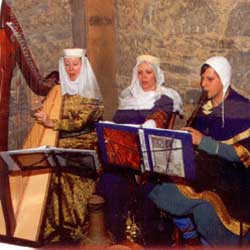 The Merry Minstrels: Harp, Psaltery
The Merry Minstrels perform Medieval, Renaissance and Celtic traditional music in period costumes on reproduction instruments of the period. Their merry music includes jigs, reels, ballads, Gregorian chants, troubadour love songs and dances using harp, recorder, krumhorn, guitar, psaltery, penny whistle and hand drum. For more information on the Merry Minstrels, click on the picture or here.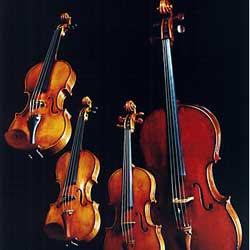 Well-Tempered String Quartet from NC Symphony
The Well-Tempered String Quartet consists of four exceptionally talented musicians from the North Carolina Symphony: two violinists, one violist and one cellist. These musicians have a vast repertoire of musical selections that are appropriate for your wedding ceremony, cocktail hour and/or wedding reception as well as any party or corporate event. For more information on the the Well-Tempered String Quartet, contact SeaSoundStudio ENTERTAINMENT.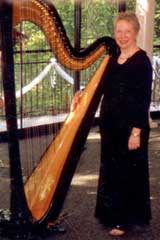 Marilyn Wienand: Harp
Ms. Marilyn Wienand holds a Bachelor of Music in Organ, a Masters and Doctorate in Voice and has taught music on the college level for many years. She has been an organist and choirmaster of several churches. She performs widely In North Carolina with church orchestras, for weddings, receptions, parties and other events.
Ms. Wienand specializes in providing harp music for weddings. She will provide a customized musical program for your ceremony, reception, rehearsal dinner or other wedding related event in a style of your choice--classical, jazz, pops, Irish Celtic. For more information on Marilyn Wienand, click on her picture or here.